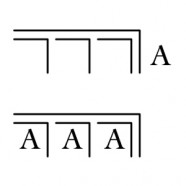 Spencer Brown's book, Laws of Form, is a mathematical description of iconic logic. He also developed iconic techniques for numbers, but these were not published. This page provides a description of Spencer Brown numbers taken from his notes. Spencer Brown numbers differ from container numbers and from the other varieties in this section of the iconicmath website by incorporating units that have an inside. Like unit-ensembles, Spencer Brown numbers do not include a grouping concept. The Image shows the number 3 being multiplied by that variable A.
This page is under construction, July 2013.
While this page is being prepared, here is a 2001 article, Spencer-Brown Numbers, that contains the forthcoming content of the page. Spencer-Brown numbers and operations are defined, examples of numerical computation are provided, the role of void is explored, and finally some syntactic inconsistencies of Spencer Brown's notation are discussed.