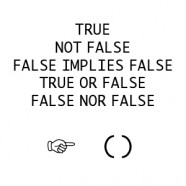 This page is currently under development, March 2018. In the interim, here's the paper.
Distinction is Sufficient
In his seminal book Laws of Form, George Spencer Brown laid the foundations of iconic mathematics. By recording mathematical concepts in spatial forms rather than in symbolic strings, he demonstrated that logic rests elegantly upon one idea, distinction, the cognitive construction of difference. This article describes in detail how symbolic logic is permeated with irrelevant structure such as ordering, grouping, sequential steps, counting and duality. Iconic rationality rests only upon the deletion of irrelevant differences.
Here's a pointer to the PDF file for Distinction Is Sufficient.