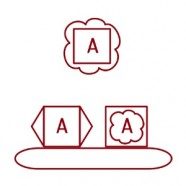 Many mathematical notations are spatial in form, surrounding structure with the symbol of an operation. The square root token is an example. The notation of symbolic differentiation also surrounds the forms to be differentiated. The Image shows a simple translation of the notation of differentiation to than of containers.
–images from calculus here–
This page is under construction, September 2012.